The tenth annual UK Coach Awards took place before an audience of over 280 industry professionals in a glittering ceremony at Viva Blackpool on the evening of Thursday 10th May 2018.  The awards were once again hosted and presented by Carol Kirkwood from BBC Breakfast, a great favourite with the coach industry.
To quote the organiser's guidelines for the Innovation Award:
Innovation is the lifeblood of any business, and the coach industry is no exception - adapting to ever changing technologies and ever-evolving customer expectations require us to reinvent and develop our products constantly. This award is designed to recognise and reward original thinking and successful implementation of ideas.
A successful nomination for this Award needs to demonstrate development of an original or novel idea that achieves one or more of the following:
Improves the image of the coach
Stimulates interest in, or desire for, coaching products
Improves the efficiency of the industry
This Award will be made for an innovation which, in the opinion of the judges, most contributes to the improvement of coach travel. Evidence of quantification of the benefits achieved is essential.
Coach Manager is a start to finish solution for the management of private hire and contract work, specially designed for coach, minibus, chauffeur and community transport operators. It is in daily use by over 1,000 operators worldwide.
The Online Portal makes it easy for a coach operator's customers to request and accept quotations, list and check their bookings, view a statement of account and make secure online payments via a desktop and mobile friendly browser. It also allows drivers to securely log in to a separate area where they can view an online diary showing their planned work and print work tickets directly from the website.
The judges commented that focussing on the needs of customers, drivers and the company, creates a harmonious triangle. The system allows 24/7 access for customers and staff bringing coach hire operation into the 21st century.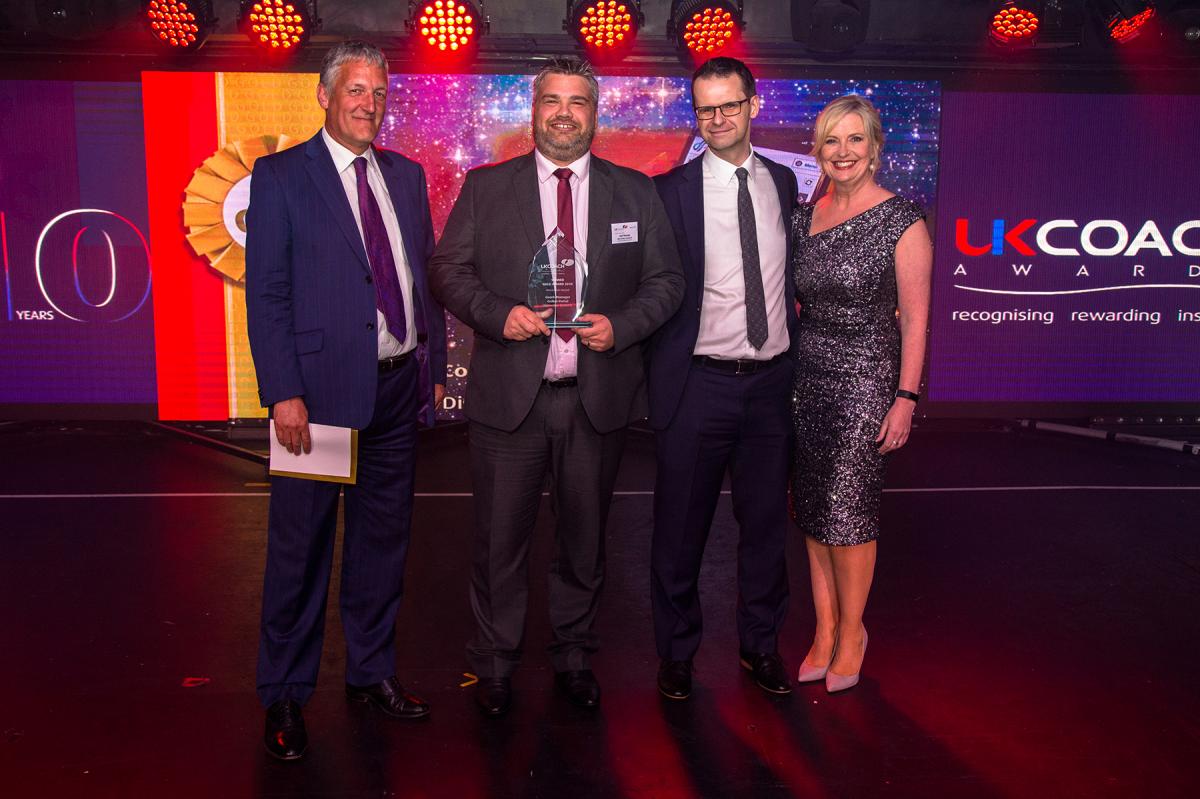 Carl Thomas (centre left), who developed the Coach Manager Online Portal, and Development Director Chris Whitehead (centre right) receiving the award.
For further information please call Distinctive Systems on 03 8676 0670.
Image courtesy of UK Coach Awards Limited.